​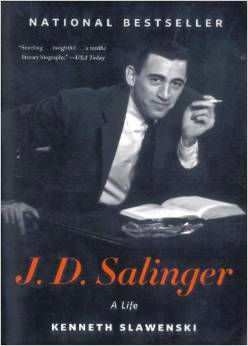 A review of Kenneth Slawenski's J.D. Salinger: A Life Raised High
Having worked on the biography of J.D. Salinger for eight years, Kenneth Slawenski finally published J.D. Salinger: A Life in 2010 and dedicated it to Salinger, who had died earlier that year. Slawenski believed that although Salinger had died, "he [would] always live within the pages he created."1 By writing this biography, Slawenski urges the readers to explore the life and works of Salinger.
Born to a Jewish family in New York in 1919, Jerome David Salinger, once referred to as Sonny, grew up under the indulgence of his mother and thus developed a spoiled personality. While fond of his mother, Salinger disliked his father Solomon, whom he saw as pragmatic and insincere. Although he was bright, Salinger owned a rebellious personality that often prevented him from paying attention in class. Because of his short attention span, while Salinger was enrolled in McBurney private school, his grades were so bad that the highest grade he gained was a B in English. McBurney could not tolerate such terrible grades and forced Salinger to drop out. Seeking more discipline his son for his behavior, Solomon Salinger enrolled him in Valley Forge Military Academy, which became the basis for Pencey Prep in The Catcher in the Rye. Although Salinger did not enjoy his time at Valley Forge, he participated in various activities, including becoming the chief editor of the student newspapers, and actually thrived in the school both socially and academically. He even wrote the Class Song, which is ironically still sung annually at Valley Forge during each commencement. During the 1930s Salinger attended several universities but never completed his degree. He was sent by his practical father to the turbulent Europe to practice business skills, residing in an Austrian Jewish family, for whom he admired strongly. He even had a crush on a girl in the family, whom he later based his story "A Girl I Knew" on. After he came back and attended Columbia in 1939, Salinger became a student of Professor Burnett, the chief editor of the Story magazine, in which Salinger published a story "The Young Folks" that resembled the style of his idol F. Scott Fitzgerald and expressed his disenchantment with the ideals of upper-class. Patriotic and ambitious when the peacetime draft was initiated in 1940, Salinger was depressed to find out that he had a minor heart problem that prevented from enlisting. Still, he published a patriotic short story, "The Hang of It", and earned The New Yorker's acceptance of "Slight Rebellion Off Madison," which provided a basis for his future Caulfield series and demonstrated that although he detested the phoniness of upper-class Manhattan society, "he had become part of it."2 His private life also demonstrated his mixed feelings toward the phoniness of the upper-class. He had dated and been deeply in love with Oona O'Neil, a pretty upper-class girl who lacked substance. In order please Oona, Salinger tried his best to get his stories published by the New Yorker. However, after Oona later entered Hollywood, she met Charlie Chaplin, who was thirty-six years older than her, and eventually became his fourth wife.
During World War II, Salinger was able to pursue his dream of enlisting in the army once the restrictions on draft were loosened, and he eventually joined the 12th Regiment of Fourth Infantry Division, which participated in the invasion of Normandy. While Salinger was in the army, he continued writing short stories containing the Caulfield characters, including "I'm Crazy", which advocated for innocence, "A Boy in France", which condemned the phoniness of war, "the Sandwich Has No Mayonnaise", in which Vincent Caulfield moans the loss of Holden Caulfield, and "the Ocean Full of Bowling Balls", which illustrated the death of Allie Caulfield and the innocence he symbolized. His transition from patriotism to disillusion with war was largely a result of his wartime experience. Besides the landing on Normandy, Salinger had also participated with the 4th Infantry Division in the Hurtgen Forest battle and the Battle of the Bulge. While involved in combat, Salinger continued writing and produced stories such as "the Magic Foxhole", which portrayed the horrible psychological effects of war. Having found out that his cherished Jewish Austrian family had been exterminated, he wrote several short stories condemning racism, especially anti-Semitism. After V - E Day, Salinger stayed to assist de-nazification and married a German girl named Sylvia Welter, and he even gave her a French passport so that he would be able to marry her. However, the cultural difference and constant quarrelling gradually alienated the couple, and Salinger ended up divorcing her in 1947. In Salinger's family, Sylvia became a subject that was never to be mentioned again. After he returned to the US, Salinger began to gain popularity. His first Glass story, "A Perfect Day for Bananafish", which portrayed the difficulty for veterans to fit into society, was published by the New Yorker in 1948. The protagonist, Seymour Glass, a veteran who came back considerably transformed from the war, eventually committed suicide next to his sleeping wife. When the New Yorker discovered Salinger's talents through this story, it entered a contract with him, granting it first- reading rights and made his later stories almost exclusive to the New Yorker. During this period, Salinger began to study Zen Buddhism and mystical Catholicism, embracing spirituality and unity in his works. Moreover, "Salinger's stories grew to bask in the sheer delight of childhood", as evidenced by "For Esmé—with Love and Squalor", published in 1950, and The Cather in the Rye, published in 1951. 3
While "For Esmé—with Love and Squalor" focused on a veteran's postwar trauma and his emotional connection to two orphans who symbolize innocence, Salinger's most significant work, The Catcher in the Rye, "was confession, purging, prayer, and enlightenment all encased in a voice so distinct that it would alter American culture."4 Utilizing a stream-of-consciousness technique, The Catcher in the Rye described Holden Caulfield's journey from Pencey Prep to New York, through which Salinger attacked the phoniness of society. Although its unconventionality was met with some suspicion, Holden's loss of faith, aimlessness evasion of reality, and longing to protect innocence helped the novel gain considerable popularity for and directly influenced the development of the Beat Literature. Because of Salinger's ambitions and arrogance, Salinger maintained high control over the publication of his work and protection of his privacy. He bought a house in a rural village Cornish and married his second wife, Claire Douglas, in 1955. Devoting his every effort to writing, Salinger produced a series of short stories on the Glass family: "Franny", "Raise High the Roof Beam, Carpenters", "Zooey", "Seymour: an Introduction", and "Hapworth 16, 1924", all of which contained religious symbols that reflected Salinger's espousal of Zen Buddhism. Seymour, the main character who elopes with his fiancée and commits suicide next to his wife in "A Perfect Day for Bananafish", is constantly featured in these stories as a spiritual savant. Franny, influenced by Seymour, reads an Orthodox classic, The Way of a Pilgrim, which contributes to her emotional breakdown. Buddy, the narrator of most of the Glass stories, reflects Salinger's emotional connection to his characters and his loss of faith. However, although most of the Glass stories gained appreciation among the readers, others were met with criticism, especially "Hapworth 16, 1924", an 81-page letter narrated by Seymour. Not only did it require the readers to know the Glass characters well, "but it also demanded that they love them as much as Salinger did". 5 Some of the Glass family stories contained ideas from Zen Buddhism, haiku, and Hindu Vendata, which to a certain extent annoyed the Western readers who did not regard spirituality as importantly as Salinger did. Salinger's extravagant focus on spirituality and the innocence of his characters alienated some critics and readers, but these stories also created a tremendous impact on the writers of 1950s.
After the completion of "Hapworth 16, 1924", Salinger continued writing but never published again, fearing that several publishers had betrayed his trust by disregarding his demands to avoid publicity. Despite countless attempts by journalists and fans to interview him, he almost always remained unreachable. Although determined to live as recluse, Salinger did not live peacefully during the latter half of his life. Since he devoted most of his time to writing, his family was often left uncared for and isolated in the house. After having two kids, Salinger's tensions with Claire exacerbated. He finally divorced Claire in 1967, and he dated several other women since until he married Colleen O'Neil, who was much younger than him, in 1988. Besides enduring the controversy over John Lennon's murderer, who was inspired by The Catcher in the Rye, Salinger also engaged in court battles with Ian Hamilton, who published a biography using his letters, and Fredrik Colting, who published a book titled 60 Years Later: Coming Through the Rye. Tightening control over his copyright, Salinger denied various attempts to adapt The Catcher in the Rye to the big screen, although various movies had used elements from the novel. Salinger remained as a recluse until his death in 2010, when, "within a few hours of the announcement, thousands of blogs and websites had posted tributes… Salinger's death was front-page news in every American newspaper and most throughout the world."6 Ironically, Salinger would have likely objected to such popularity.
Slawenski expresses his admiration of Salinger by depicting him as an "American prophet" in the book. According to Slawenski, "Salinger may have considered himself an American prophet, a voice crying in the urban wilderness."7 His works, especially The Catcher in the Rye, have greatly influenced the American culture. Even during the conformist 1950s, "the call to rebellion that the public had come to associate with Salinger's work began to bleed into mainstream society."8He was not only the inspiration for the Beat Generation, but also for many generations hence. After Salinger's death, thousands of individuals, mostly young, posted videos of them reading their favorite bits of Salinger's works on YouTube, which proved that Salinger's works were timeless.
Born and raised in New Jersey, which is considered one of the more liberal states in the nation, Kenneth Slawenski, the author of the book, runs a website on the work and life of J.D. Salinger, DeadCaulfields.com. Slawenski took seven years to work on the biography of Salinger, "determined to one day deliver a… account of Salinger's life justly infused with appreciation for his works".9 He has also published another short biography praising J.D. Salinger in Vanity Fair. It is evidenced that the author is clearly a fan of Salinger, which leads him to convey more appreciation and less criticism of Salinger's works and life. Since Slawenski was likely to be born to a liberal background, he might also have disregarded Salinger's unconventional writing style, which is more abhorred by conservatives.
According to Ferdinand Mount's "Refusing to Play the Game", Slawenski does not write professionally in his work. Besides writing in an amateurish way, such as spelling "Adolf" as "Adolph", "Slawenski cannot quote chunks from letters or diaries or even from the books", because he is not authorized.10 Jay McInerney also states in the book review "J.D. Salinger's Love and Squalor" that, because of Salinger's lawsuit with Ian Hamilton, Slawenski had to follow a strict interpretation of copyright law, "limiting himself pretty much to short phrases (that could be quoted from Salinger's work)."11 However, although Mount has pointed out some of Slawenski's flaws, he still regards the book with approval and contends that, "Slawenski has a priceless humility and a sympathy with his subject"; therefore, Mount concludes that, "If you can imagine Salinger having a soft spot for any book about him… then Slawenski's might be the one."12In conclusion, despite Slawenski's flaws, his efforts are still commendable.
Even though Slawenski's analysis of Salinger's life and works is very thorough, his writing style remains the biggest flaw of the book. By using phrases such as, "the struggle of Holden Caulfield echoes the spiritual journey of the author", Slawenski makes his writing appear like a high school student's essay on Salinger's works.13 Moreover, because of Slawenski's strong sympathy for Salinger, he often conveys qualified appreciation for the latter and tends to even justify some of Salinger's more controversial actions. For example, after Claire Douglass married Salinger and moved into his house in Cornish, Salinger dedicated most of his time to writing instead of accompanying his family, a behavior that the readers found somewhat appalling. Even though Slawenski accurately described Salinger's actions with qualified detachment, he still viewed Salinger during this period with more veiled appreciation for his works and stories than criticism for his lack of care towards his family. However, although the book might contain some bias, the readers can truly comprehend Salinger's character and actually care for him. When Slawenski detailed the battles that Salinger participated in during WWII, he vividly portrayed the fear of death and disenchantment with war that Salinger faced. Through his writing, Slawenski gradually pushed the readers to sympathize with Salinger and comprehend the transformation of Salinger's writing from patriotic to disillusioned.
According to Slawenski, the literature of 1950s was largely marked by liberalism instead of conservatism. The fact that The Catcher in the Rye, a book published in 1951 that contained controversial use of diction, could be endorsed by most of the critics and readers, demonstrated that people of the 1950s could still accept nonconformist literature. Not only was Salinger's writing accepted, but it was also praised by the acclaimed Beat Generation. During the 1950s, "writers such as Jack Kerouac and William Burroughs continued the dialogue Salinger had begun, taking the discussion of alienation and displacement to new levels."14 Many controversial fictions, including the infamous Lolita, which was reportedly directly influenced by Salinger's "A Perfect Day for Bananafish", were published during the 1950s. Such a literary movement proved that the 1950s was not a period of pure conformity. Still, Slawenski made references to the post-war conformity in the society in the book. In fact, Slawenski mentioned that Salinger had written a short story titled "Uncle Wiggily in Connecticut", which specifically criticized the post-war suburban social conformity. However, the story was published in the late 1940s and could not be used to describe the 1950s. Therefore, although the 1950s were marked by conformity, there were still liberal elements present during this decade.
In conclusion, by analyzing Salinger's life and works as well as his influence upon American society, Slawenski points out Salinger's enduring influence on American popular culture and how he affected the literary trends of 1950s. As the beatniks sought validation of their discontent with the society, "many found this validation in The Catcher in the Rye… (and) seized upon the character of Holden Caulfield as the spokesperson for their generation."15
Footnotes:
Slawenski, Kenneth. J.D. Salinger: A Life. New York: Random House, 2010. x.
Slawenski, Kenneth. 46.
Slawenski, Kenneth. 172.
Slawenski, Kenneth. 193.
Slawenski, Kenneth. 370.
Slawenski, Kenneth. 411
Slawenski, Kenneth. 414
Slawenski, Kenneth. 308.
Slawenski, Kenneth. ix.
Mount, Ferdinand. "Refusing to Play the Game." The Spectator. The Spectator Ltd, 31 Mar. 2010. Web. 04 June 2014.
McInerney, Jay. "J.D. Salinger's Love and Squalor." The New York Times. The New York Times Company, 10 Feb. 2011. Web. 04 June 2014.
Mount, Ferdinand. "Refusing to Play the Game." The Spectator. The Spectator Ltd, 31 Mar. 2010. Web. 04 June 2014.
Slawenski, Kenneth. J.D. Salinger: A Life. New York: Random House, 2010. 214.
Slawenski, Kenneth. 308
Slawenski, Kenneth. 307.