​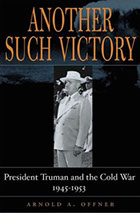 A Review of Arnold Offner's Another Such Victory: President Truman and the Cold War (1945-1953)
Recent examination of American history during the Cold War has portrayed President Harry Truman as a hero in popular culture, a collected wartime politician who prudently preserved both America's interests and security against domineering Soviet threats, the savior of the critical decade of power struggles following the collapse of the Nazi regime and the end of the Pacific War. But under more careful scrutiny, it becomes clear that although admirable, Truman's policy making was shaped by his steadfast belief in American superiority and refusal to capitulate to different ideals; this exposition becomes the subject of Arnold Offner's Another Such Victory: President Truman and the Cold War, 1945-1953. In his work, Offner seeks to reveal the underlying nature of Truman's narrow outlook, expose the complexity of international and Soviet-American relations, and finally, to discuss the global consequences of both Truman's actions and ideology, reflecting – in a historical reference to King Pyrrhus's Greek forces after the battle of Asculum – that "'another such victory, and we are undone.'"1
To set the stage for discussion, Offner first introduces the complexities and characteristics of Truman's upbringing and how they impacted his presidential outlook, as well as the actual circumstances leading up to Truman's presidency. Born on May 8, 1884 in Lamar, Missouri, Truman would "emulate aspects of his father's way of life," including involving himself in politics, although disapproval from his father would foster his ambivalence towards powerful men.2 His own Missouri heritage resulted in what Offner has labeled "parochial nationalism and racism," and these in turn resulted in his belief in American supremacy and the subsequent unwillingness to compromise during crises in the Cold War.3 Offner next recounts Truman's surprising military success, his rise in politics, his election to the senate – albeit with the criticism that he was the product of a corrupt political machine – and his vice-presidency in Franklin Roosevelt's administration, commenting that Truman was a "relatively safe choice," as he identified with Wilsonian internationalism, favored low tariffs, and wanted to foster foreign purchases of American goods.4 But when Roosevelt fell dead, Truman's pre-existing "deep-seated" antipathy toward Soviets and concerns over Stalin's actions was further exacerbated by the shaky wartime alliance he had inherited, which was marked by an ambiguous atomic policy and an escalating power rivalry.5 Truman, however, did seek an expedient peace, or at least wanted to resolve "rapidly converging issues" before they became a "seamless web."6 During his presidency, Truman witnessed the end of the European war, but was dismayed by the "diplomatic swords" it brought as greater nations tried to carve up their weaker counterparts, fearing that he was "'the last man fitted to handle [the crises].'"7
Offner next takes the opportunity to discuss the years of Truman's presidency immediately following the end of World War II and the events leading to worsening conflict. Truman indeed worried "about Soviet-American relations in May 1945," but the period was also marked by the ongoing war in the Pacific and the issue of Japan's surrender.8 In fact, at the outset of the Potsdam meeting, Truman's chief concern appeared to be gaining "the swiftest, least costly end to the Pacific war;" his belief in his ability to end the war, however, created a mistaken expectation that he could shape peace on his own terms.9 The use of the atomic bomb for diplomatic purposes, to "'out maneuver' the Russians," since no one else yet possessed nuclear weaponry, was intended to "preclude the need to share power during the postwar occupation of Japan."10 By the end of 1945, Truman sought a pragmatic approach to world affairs, yet it is critical to note that his parochial nationalism still undercut any possible accord, and his own personal insecurities "set the stage for confrontation."11 So in early 1946, Truman and his administration began to reformulate U.S. foreign policy, regarding the Soviet Union not as a difficult ally, but rather as a potential enemy who threatened America's interests and world peace, consequently enacting a 'get tough' policy which was not interested in gaining Russian accord, but in attempting to get what the U.S. wanted "by insisting upon it."13 And by spring 1946, U.S. policy makers began to see every Russian claim as a direct threat to national security. In one sense, before even George Kennan's containment telegram and Winston Churchill's 'Iron Curtain' speech, Truman had already "made his personal declaration of Cold War."12
With mounting Cold War hostilities, tensions were further aggravated by ideological conflict and differing motives as reflected by the division of Europe through the Marshall Plan, the standoff with the Berlin blockade, and the partition of Palestine and the creation of Israel, over objections – which were frequently violent – of Arabs living in bordering regions. Truman himself had stated that the Truman Doctrine and Marshall Plan, originally entitled the European Recovery Program (ERP), were intended to be "two halves of the same walnut," but officials during the period from 1947-1948 sharply contested this idea.14 In the critical years following the end of World War II, Europe was in a state of economic instability, and U.S. officials concluded that rapid European industrialization was imperative to both the interests of America and Europe by staving off communist takeovers. The Marshall Plan, despite its shortfalls, was perhaps "the most enduring and inspiring foreign policy initiative" of the Truman administration, restoring European production and establishing a framework to effect Franco-German accord.15 But the Berlin blockade created uneasy tensions that were not quickly resolved. In the crisis, the Soviet Union blocked Western access to the sectors of Berlin under Allied control, intended to halt the formation of a powerful West-Germany; the U.S. responded in turn with a continuous airlift of food and supplies. Luckily for him, Truman had managed to turn the Berlin crisis – which ended up as a major defeat for Stalin – into a "presidential and international success."16 However, the most troubling of the international junctures was the Palestine-Israel conflict. The creation of a Jewish state sparked outrage and bloodshed from its Arabic neighbors, so Truman played the role of the mediator between the two antagonizing parties, assisting in the creation of Israel yet distressed over Arab refusal to recognize the state and still expressing concerns for postwar territorial divisions and seeking to hold Israel to "diplomatic account to fulfill its agreements.'"17
Despite Truman's initial resolve to find an expedient peace, he soon found himself entangled within a web of conflict as the Cold War went global and diplomacy in Asia reached an impasse with the presence of communism in both China and Northern Korea. In Asia – as in Europe – the Truman administration pursued a belligerent policy of containment that became "'liberation' or 'rollback,' with fearful consequences," as Truman aimed to not only contain communism, but also eliminate it where it already existed.18 Truman saw Jiang Jieshi's government in China as the "world's 'rottenest,'" yet simultaneously deplored Chinese communists and branded the party as murderers.19 Truman opposed dealing with Communists under any circumstance and never perceived China's civil war as apart from America's own Cold War with the Soviets. Because of Truman's narrow perspective, resistance to alternatives, and monolithic view of communism, he resisted opening communications and diplomatic relationships with the People's Republic of China (PCR). His administration involved itself more deeply than ever in China's civil war in spring 1950 by "allowing the JCS [Joint Chief of Staff] to commit to Taiwan's defense."20 Yet even still, Truman "made his most fateful decisions during the Korean War," which he attributed solely to "Soviet-inspired North Korean unprovoked aggression against South Korea."21 Truman's decision to intervene in order to preserve South Korea's United Nations-recognized independence under U.N. auspices was founded his desire to protect his administration from criticism over another loss in Asia and belief that this new "aggression could not go unchecked."22 Truman's July 19th speech escalated a joint U.S./U.N. police action in Korea, the ideological battleground of Asia.
Intended to portray President Truman in a new light, Offner's book provides deeper insight into the workings of Truman's mind, domestic issues, international crises, and most importantly, why and how Truman's stubbornness resulted in increasing hostilities within Soviet-American relations and the less-than-expedient peace Truman had supposedly desired. Although Truman's popularity plummeted during the immediate years following his presidency, historians have since praised his actions, "crediting his administration with reconstructing Western Europe and Japan, resisting Soviet or Communist aggression from Greece to Korea, and forging collective security through the North Atlantic Treaty Organization."23 But the origins of the Cold War were nevertheless complex, and to "dismiss Stalin's policies as the work of a paranoid is to greatly oversimplify" the plethora of factors at work.24 Historians now believe that Stalin "pursued a cautious but brutal realpolitik in world affairs" and desired pragmatic or opportunistic policies in such critical areas as Germany, China, and Korea.25 Similarly, new assessments on Mao and Chinese Communists reveal a willingness to work for cooperative relations with the U.S. that ended up denied by Truman's refusal to deal with the PRC. The product of his parochial and nationalistic heritage, Truman's policy making caused him to disregard dissenting views and demonize leaders who would not accord themselves with U.S. will, resulting in an intensified Soviet-American conflict. Truman lacked the qualities of a great leader; he "could not see beyond his immediate decision or visualize alternatives" and was unable to move the U.S. "away from conflict and toward détente."26 His stalwart promotion of U.S. ideology and politics over all others locked America in a rigid, long term global conflict with a very narrow victory.
Arnold Offner himself was born in Brooklyn, New York, and is of Eastern European descent. His works specialize primarily in European conflicts – the origins of World War II, foreign policies and appeasement, American involvement in world affairs, and the transition to the Cold War and later years. Offner is Cornelia F. Hugel Professor of History at Lafayette College, the college providing a "supportive academic home in which [he could engage] in scholarly enterprise.'"27 Thus, it can be assumed that his education is thorough and his writings and teachings very specific. Because of his Eastern European heritage, Offner likely either experienced first-hand the crises emerging in Europe during the mid-20th century or was exposed to them through relatives, friends, or other connections. These experiences would have likely influenced his writings to provide a more expository view of the many incidents, but also perhaps to deplore the Soviet Union's actions. Although in Another Such Victory, Offner does attempt to relate an objective perspective on a typically biased history of the origins of the Cold War by providing deeper insight into Truman, Stalin, and Mao, his personal relation to his subject matter may have distorted his writing.
Offner's Another Such Victory was published in 2002 by the Board of Trustees of the Leland Stanford Junior University and is part of the Stanford Nuclear Age Series, though Offner himself relates that he has "worked on [the] book for a long time," implying that he likely began his project in the 1990's, when the Cold War had just ended in 1991.28 The period following the end of the hostile tensions and break-up of the Soviet Union most probably witnessed a sentiment of reflection, as authors sought to understand the beginnings of the 45-year-long conflict and looked back to assess how the attitudes of presidential administrations affected the length and nature of the hostilities. Offner decided to offer his own perspective to the public, saying that the origins of the Cold War were far too complex to be summarized or generalized briefly and suggesting that perhaps it was Truman's own stubbornness and refusal to compromise with Communists that set a precedent for presidents to follow and led to continual increase of animosity, often nearly reaching a breaking point.
A current professor at Indiana University, Robert L. Ivie reviews Offner's work in Rhetoric and Public Affairs and reaffirms Offner's purpose of depicting Truman in a more candid manner and says that the book was not "written to confirm the current view of [Truman] . . . as a near-great president," but rather, to hold him accountable for his own actions, to "cut Truman back down to size, arguing that he was a 'parochial nationalist.'"29 Ivie understands that Truman inherited an uneasy presidency with a set of troubling circumstances standing on shaky ground and did succeed in guiding an isolationist country towards meeting postwar global responsibilities, but Soviet-American tensions became "fully militarized during Truman's watch," possibly due to Truman's own shortcomings.30After discussing Truman, Ivie next draws a parallel to modern day attitudes of belligerency and unchecked American power; he says that Truman's presidency perpetuates ideas of black and white categories and beliefs in U.S. supremacy to mismanage international relations and conflicts. Ivie likens "Trumanesque parochialism" to President Bush's rhetoric of evil and predilection to frame the post-9/11 crusade against terrorists and tyrants.31
Meanwhile, J. Gary Clifford, a professor at the University of Connecticut, states in his review that Another Such Victory is a "critical revisionist portrait of Truman's personal role in shaping U.S. foreign policy toward the Soviet Union and the People's Republic of China."32 In his review, Clifford reflects positively on the book, saying that the "importance of the scholarship, the author's careful voice of reasonable criticism, [and] the lucid writing style" give the book the ability to discuss Truman's flaws and lend it a popularity that reaches beyond the reader and a universality that extends to "foreign policy publics."33
Another Such Victory is a well-written, scholarly yet reader-friendly, analytical, and detailed account of not only the events of Truman's term from 1945-1953, but also the reasons behind the Truman administration's policies, which shaped following generations of history. Offner makes occasional reference to Truman's surprising resolve and capacity, but the work as a whole still seeks to criticize Truman's unprepared, inexperienced, and costly leadership, remarking that "despite Truman's pride in his knowledge of the past, he lacked insight into the history unfolding around him."34 Truman narrowed rather than broadened his already limited scope of options, and Offner makes this point frequently and well throughout the book. Offner succeeds in his claimed purpose and thesis – he is able to portray Truman in a more genuine, authentic manner without the undeserving praise that he is often associated with.
When considering liberal progress in regard to foreign policies, international relations, and the Soviet-American power struggle, it becomes clear that the 1950s were marked by dominant conservatism and a general American unwillingness to compromise even for the promise of global peace. Communism was an ever present threat in Europe, and Americans feared that Stalinist regimes and Soviet ideas would make their way to and contaminate the U.S., against all rationality. When Truman finally left office in 1953, Offner says that "the Fair Deal was dead, McCarthyism was rampant," and the U.S. was left "on Cold War footing at home and abroad for years to come."35 The Truman administration tried desperately to preserve the status quo in international politics and allow no leak of communism within any infrastructure of the American government or the American public; Truman himself was a narrow-minded nationalist – or as Offner put it, a parochial nationalist – who refused peaceful solutions at every turn, clinging instead to beliefs of the "superiority of American values and political-economic interests."36 Simple containment turned quickly into rollback, and foreign policy entered a reactionary period as U.S. officials attempted to undermine all aspects of communism, even where it already existed. Truman narrowed American "perception of the world political environment," resulting in intensified Soviet-American conflict, the beginning of Sino-American animosity, and a hastened division of Europe.37 He laid the framework for communism paranoia and extreme conservatism for world affairs.
The title of the work, Another Such Victory, makes reference to the famous Greek-Roman battle of Asculum, as mentioned earlier, and is significant because it represents a critical viewpoint, of which the dynamics become central to Offner's argument. Offner advises the reader that before we, as Americans, "celebrate America's victory in [the Cold War]," we would do well to remember the implications, cost, and long-term global struggle that strained the entire international community.38 And we would do well to remember that with such a dangerously close victory, we were very near to becoming "undone."
Footnotes:
Offner, Arnold. Another Such Victory: President Truman and the Cold War, 1945-1953. Stanford: Stanford University Press, 2002. xii.
Offner, Arnold. 3.
Offner, Arnold. 5.
Offner, Arnold. 15.
Offner, Arnold. 17.
Offner, Arnold. 34.
Offner, Arnold. 46.
Offner, Arnold. 47.
Offner, Arnold. 72.
Offner, Arnold. 97.
Offner, Arnold. 101.
Offner, Arnold. 124.
Offner, Arnold. 152.
Offner, Arnold. 213.
Offner, Arnold. 244.
Offner, Arnold. 271.
Offner, Arnold. 305.
Offner, Arnold. 464.
Offner, Arnold. 464.
Offner, Arnold. 467
Offner, Arnold. 467
Offner, Arnold. 467
Offner, Arnold. ix.
Offner, Arnold. x.
Offner, Arnold. x.
Offner, Arnold. 470.
Offner, Arnold. xiv.
Offner, Arnold. xiii.
Ivie, Robert L. "Another Such Victory: President Truman and the Cold War, 1945-1953 (review)." Project MUSE. N.p., n.d. Web. 06 June 2014. <http://muse.jhu.edu/journals/rap/summary/v007/7.2ivie.html>. 1.
Ivie, Robert L. 2.
Ivie, Robert L. 1.
Clifford, J. G. "Another Such Victory: President Truman and the Cold War, 1945-1953 - Arnold A. Offner." Stanford University Libraries. Stanford University Press, n.d. Web. 06 June 2014. <http://www.sup.org/book.cgi?id=1790>. 1.
Clifford, J. G. 1.
Offner, Arnold. 470.
Offner, Arnold. 470.
Offner, Arnold. xii.
Offner, Arnold. xii.
Offner, Arnold. xii.